We have great news: a new functionality for prepaid subscriptions is now available in your personal account – the Balance feature for all Gyre users 🤩🎉
Gyre Balance is a user's virtual account that allows you to pay for subscriptions without linking a card.
Why do you need the Balance feature, and how does it work?
We've had 2 main requests from users:
Some have approached us with a request to add functionality that would allow them to pay for Gyre subscriptions using cryptocurrency conversion.
Others faced difficulties in accepting bank cards by the system, particularly the problem of a blocked bank card.
So the idea came up to create a virtual account to cover both of these user needs.
Gyre Balance is attached to the payment system and is used for payment, automatic renewal, or registration of new subscriptions. After replenishing Gyre Balance, funds are debited automatically when connecting to a new plan or auto-renewal of the current one.
Gyre Balance can be replenished in 2 ways: by transferring funds from bank cards or converting cryptocurrency. At the same time, we do not limit users and do not limit the replenished amount. You can replenish your virtual account with any desired amount.
Is it possible to combine 2 payment methods – Balance and a bank card?
Certainly! We recommend that you leave the current payment method and replenish the Balance at the same time.
We want to warn you that Gyre Balance is the priority when withdrawing funds to pay for a subscription, even if you left a bank card linked in your account settings.
A linked bank card serves as a kind of airbag. So, if there is not enough money on Gyre Balance, equivalent to the cost of the package, charges will be made in parts: debiting all funds from Gyre Balance and the difference from the attached bank card.
How are subscriptions charged?
Automatically 🤗
For users' convenience, the functionality allows you to remove the monthly payment for the Gyre package automatically and without direct user participation.
If there is not enough money on Gyre Balance, equivalent to the cost of the package, there will be no charge for the service. All funds will remain in the Balance. The current subscription will be canceled, and access to the personal server will be closed.
So, I can disconnect the card right now and replenish the Balance?
Yes! If it is more convenient for you to open a virtual account, please feel free to do so.
Before unlinking a bank card, we recommend topping up your Gyre Balance so that the renewal of current subscriptions is successful and your servers remain up and running.
To replenish the balance using a card, follow the instructions below:
In your personal account, go to Account Settings.
Select General.
Payment method – select Balance → Card
Enter the desired amount and complete the replenishment.
Wait for the funds to be debited from your bank card.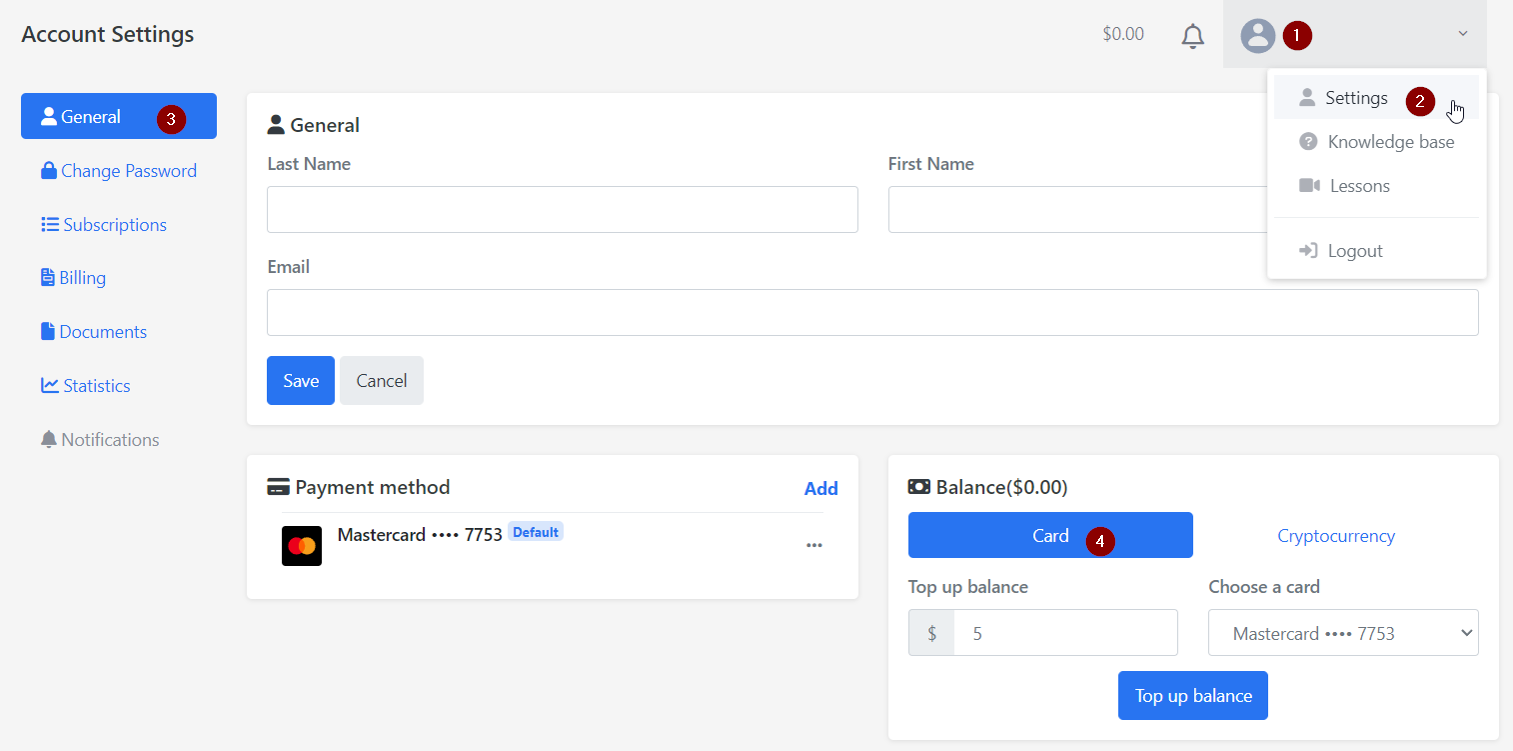 To replenish your Gyre Balance via cryptocurrency conversions, select the Cryptocurrency option in your account settings.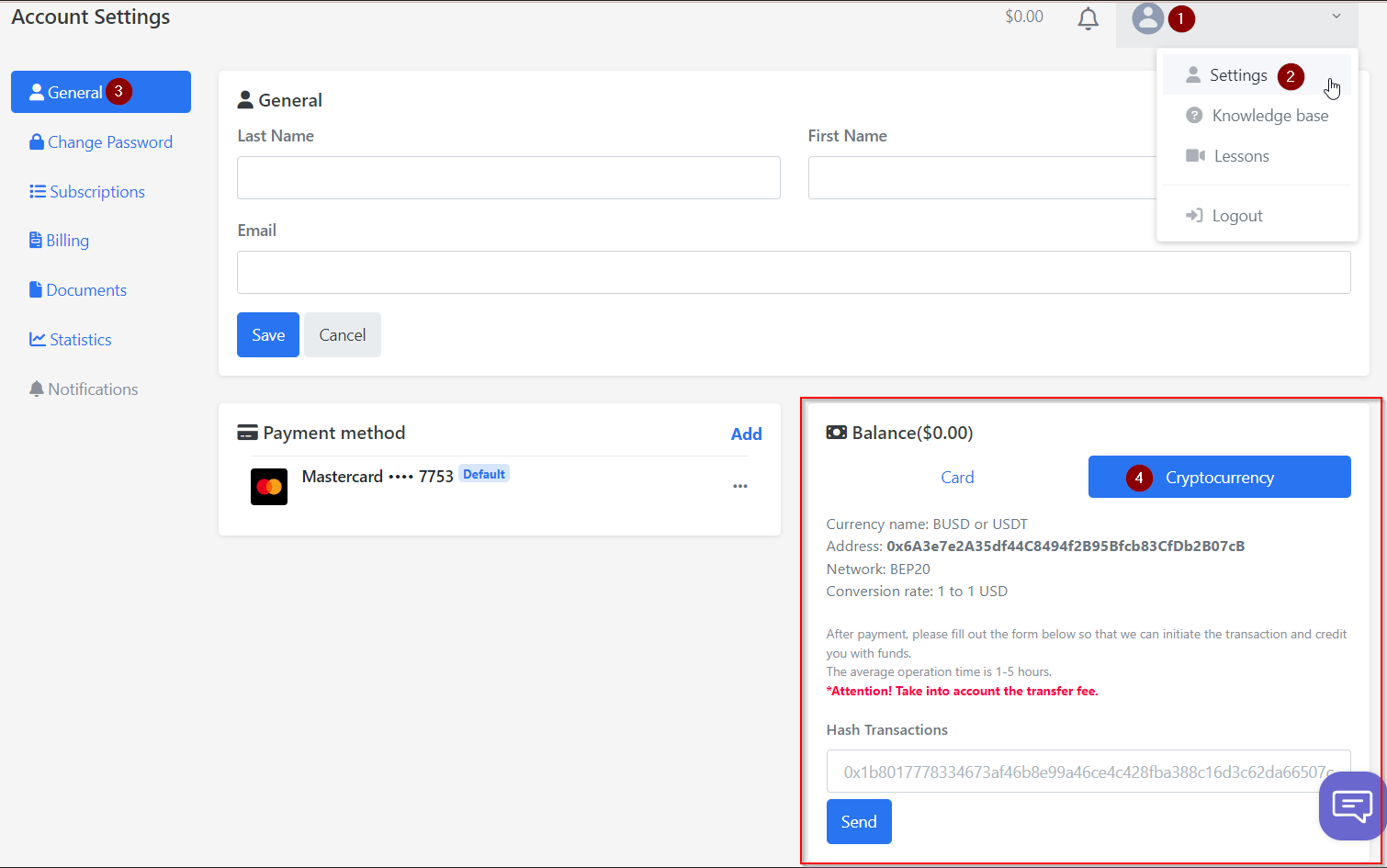 Then select the appropriate currency (USDT or BUSD) and transfer the desired amount to one of the specified addresses. Currency conversion is carried out 1:1 at the current exchange rate to the dollar.
Important!
Specify the correct address.
Take into account the transfer fee.
After payment, write to the support chat and attach the transaction id and registered email.
During the development phase, automatic withdrawal of funds from the Balance via cryptocurrency conversions is possible only to renew current subscriptions. Write to the support chat to pay for new subscriptions through the Balance.
What else can I do with the Gyre Balance?
We are always grateful to those users who recommend our product, share articles from the blog, exchange cases of cooperation with Gyre, and simply help creators and channel owners learn about us.
In addition to love and words of gratitude, we express our gratitude in the form of discounts or bonuses. Thus, referral bonuses or rewards from an affiliate program can be credited to Gyre Balance if desired by users.
Stay tuned for Gyre news and updates!
We are working for you.