Imagine the following scenario: you choose videos to broadcast, create a playlist, and launch the stream on YouTube. And then you notice that your stream is interrupted or YouTube sends you an error notice about data buffering and low-quality of the video stream. The steam starts to freeze, and the sound is distorted, lags, or runs ahead of the picture. Something weird is happening during the stream, so it's easier to stop and not restart it. You probably don't even need to imagine this scenario because many creators have already faced it.

So, in this article, we explain in detail why this happens and causes of YouTube live streaming buffering , along with solutions, so that starting continuous streams is a quick and effective process for you.
Why are streams interrupted?
If you're streaming from pre-recorded content through any software that allows you to delay broadcasts or stream from the cloud storage, and you've experienced poor streaming quality or data buffering, the root of this problem usually lies in videos not being optimized for streams.
We have experienced users downloading their existing videos from YouTube and then uploading them to the Gyre "Storage" to run continuous streams or other streaming services.
This is not the correct way to do it. This is why:
The video you uploaded to your channel and then downloaded from there for streaming are two different videos (according to characteristics: bitrate, extension, etc.).

For a stable and continuous stream, videos must match

YouTube requirements

. Downloaded videos lose these parameters.

During the stream, YouTube automatically converts the video file according to the necessary parameters if you have chosen non-optimized videos for the stream. If the video hosting cannot simultaneously convert your video file and stream it without interruption, your broadcast will most likely stream in fragments (with pauses).

In addition, if the user creates a playlist for streaming from several non-optimized videos (which differ in resolution or bitrate), this can additionally slow down the stable transmission of the stream and lead to the interruption or termination of the stream by YouTube.
Why can't we create streams from unoptimized video files?
We've already partially answered this question above: because it will cause slower data transfer and your streaming will be interrupted or forced to end altogether.
We're getting reports from users that they've run streams with non-optimized clips, and the stream has been stable. Let's quickly address this: your stream can continue for a while. But for how long? It's a gamble. Where is the guarantee that your next stream from an unoptimized video will not begin to experience interruptions immediately after starting or won't stop at all?
Since you are creating streams for YouTube, we advise you to follow all the requirements and play by the rules of the video host so that streams bring new views, subscribers, and channel income.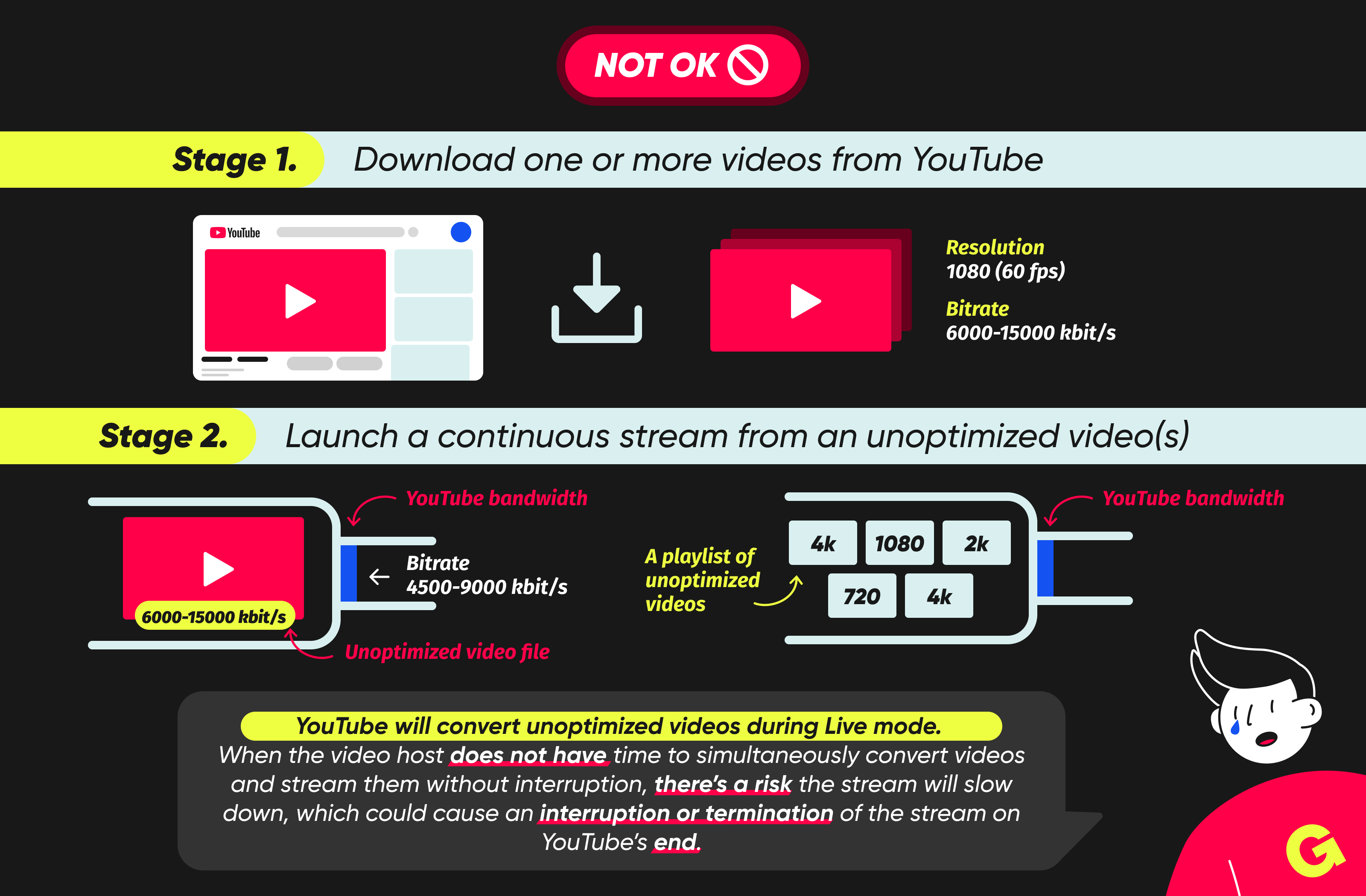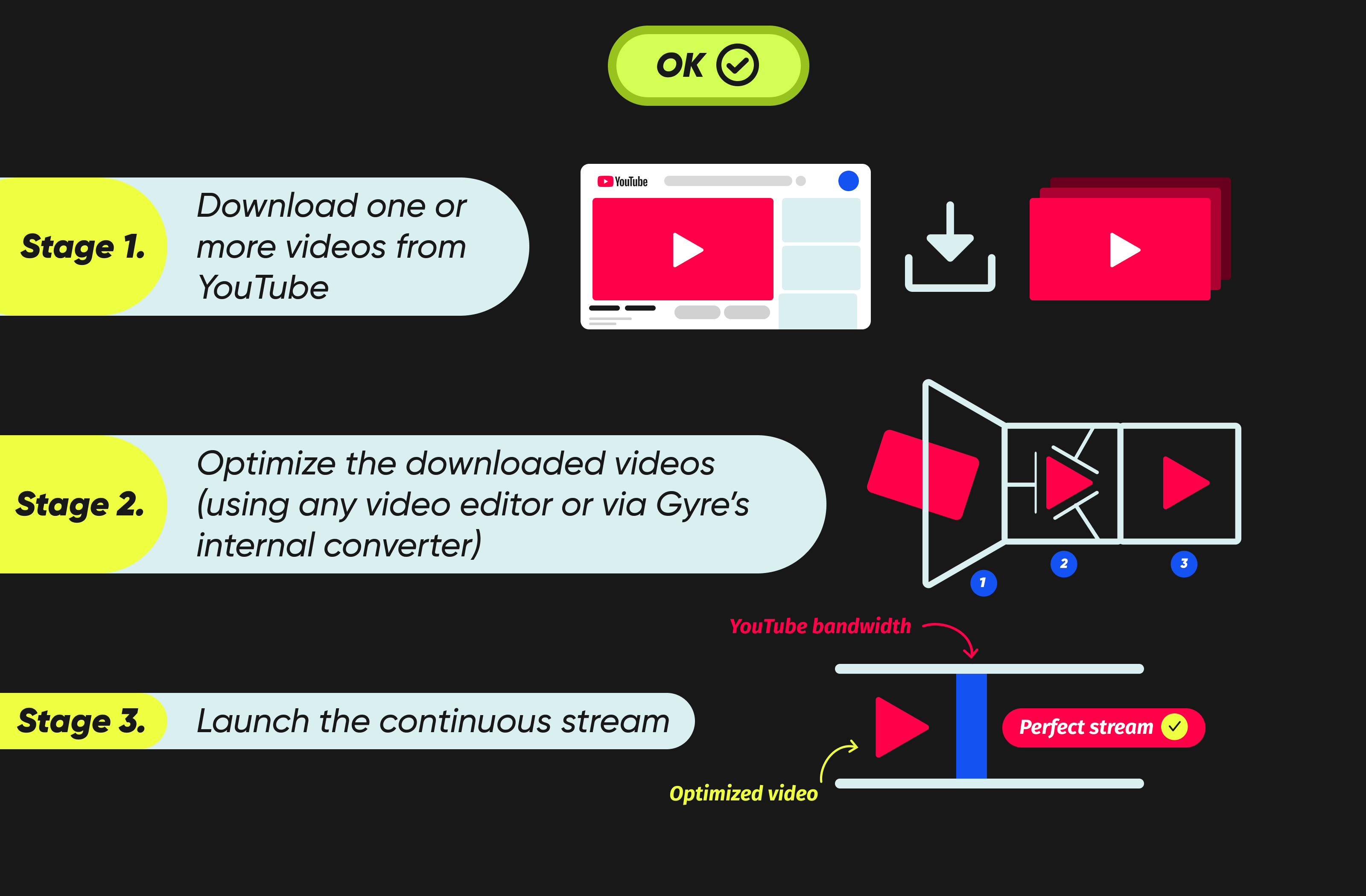 If this doesn't convince you, consider your profit or lack thereof. Viewers do not watch poor-quality streams. If your YouTube live stream keeps stopping, your subscribers and potential viewers will go to another channel. And lack of views does not help when trying to monetize content. Is it worth neglecting optimization if there's a risk of losing income from the YouTube channel?
How to independently ensure a high-bandwidth video stream for your broadcast?
The only correct solution how to fix lag, buffering, and stopping issues is to optimize video files for streaming. This can be done using any video editor.
We understand that for many of our users, optimizing videos is a time-consuming task. So, to simplify and make it more convenient, we developed an internal converter that's available to every user in the personal account of the Gyre tool.
Many of our users have probably seen this notification from YouTube: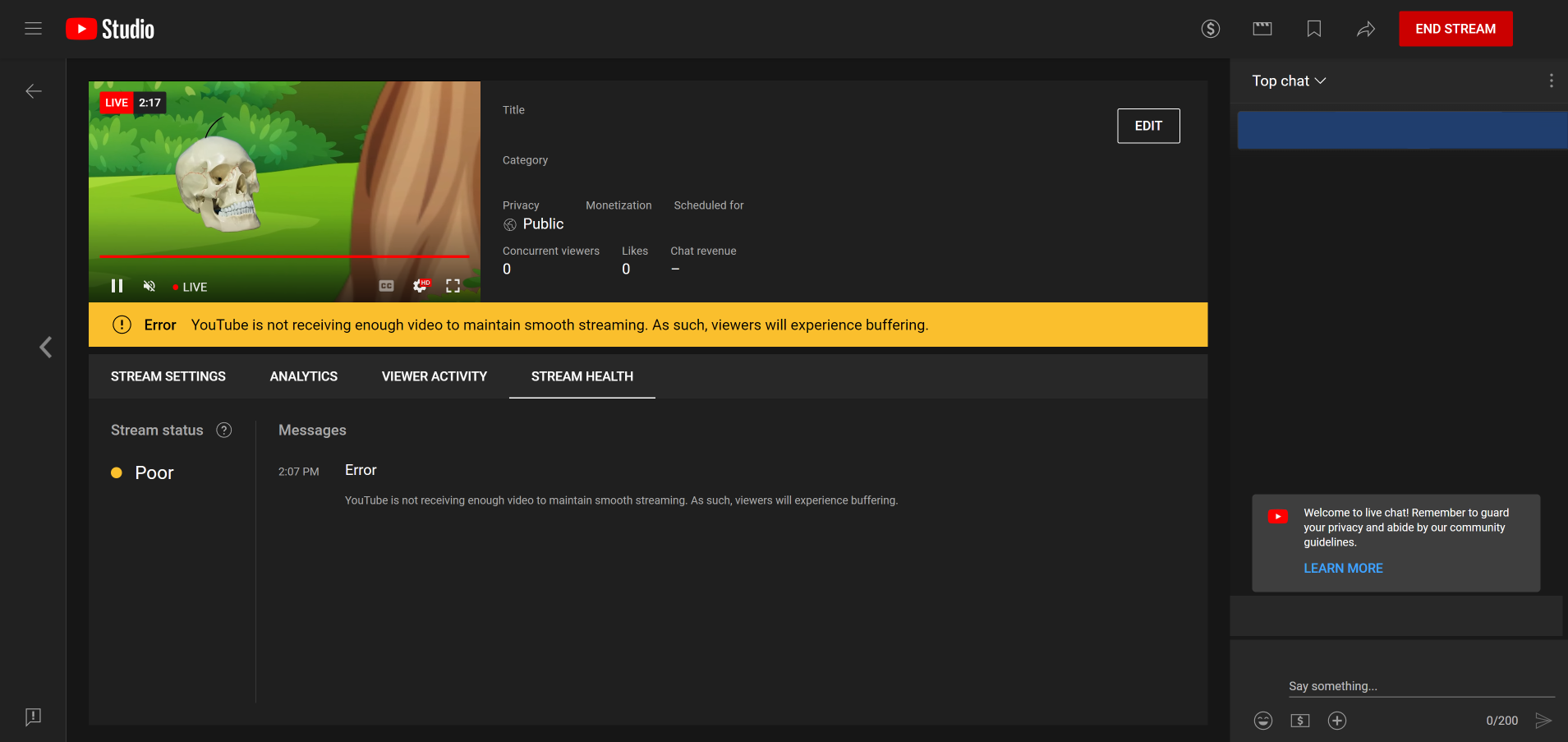 To prevent facing this problem and ensure your videos meet YouTube requirements for high bandwidth video streaming, we have created an internal video converter.
Advantages of the Gyre Video Converter:
No need for additional programs; everything can be done in the Gyre personal account.

Saves time and effort.

No need to use your computer because Gyre uses a cloud service; everything is done directly in your personal account.

You can immediately save the optimized video to "Storage" and delete the original source (so as not to clog up the "Storage" memory).

In your personal account, you can check each file for compliance with streaming requirements and, if necessary, immediately convert it.
How does Gyre's internal video converter work?
The Gyre Video Converter is Gyre's internal development for users of the tool that helps to transcode parameters of video files according to YouTube standards for fast, stable, and uninterrupted streaming.
To optimize the video file, it is necessary to upload it to "Storage."
The Gyre tool includes 2 automatic stages to check uploaded videos for optimization — during the actual upload of the video to "Storage" and in the "Storage" itself. The user can learn more about the file by clicking the "Check" button.
If your video is not optimized, you will be asked to change its parameters before adding it to the stream. This can be done by clicking on the "Optimization" button.
To optimize the necessary file:
Go to the "Storage" section.

Find the required video file and click on the video information menu.

Click the "Optimize" button.

The converter panel will open, which details the current data of your video and approximate data after its conversion.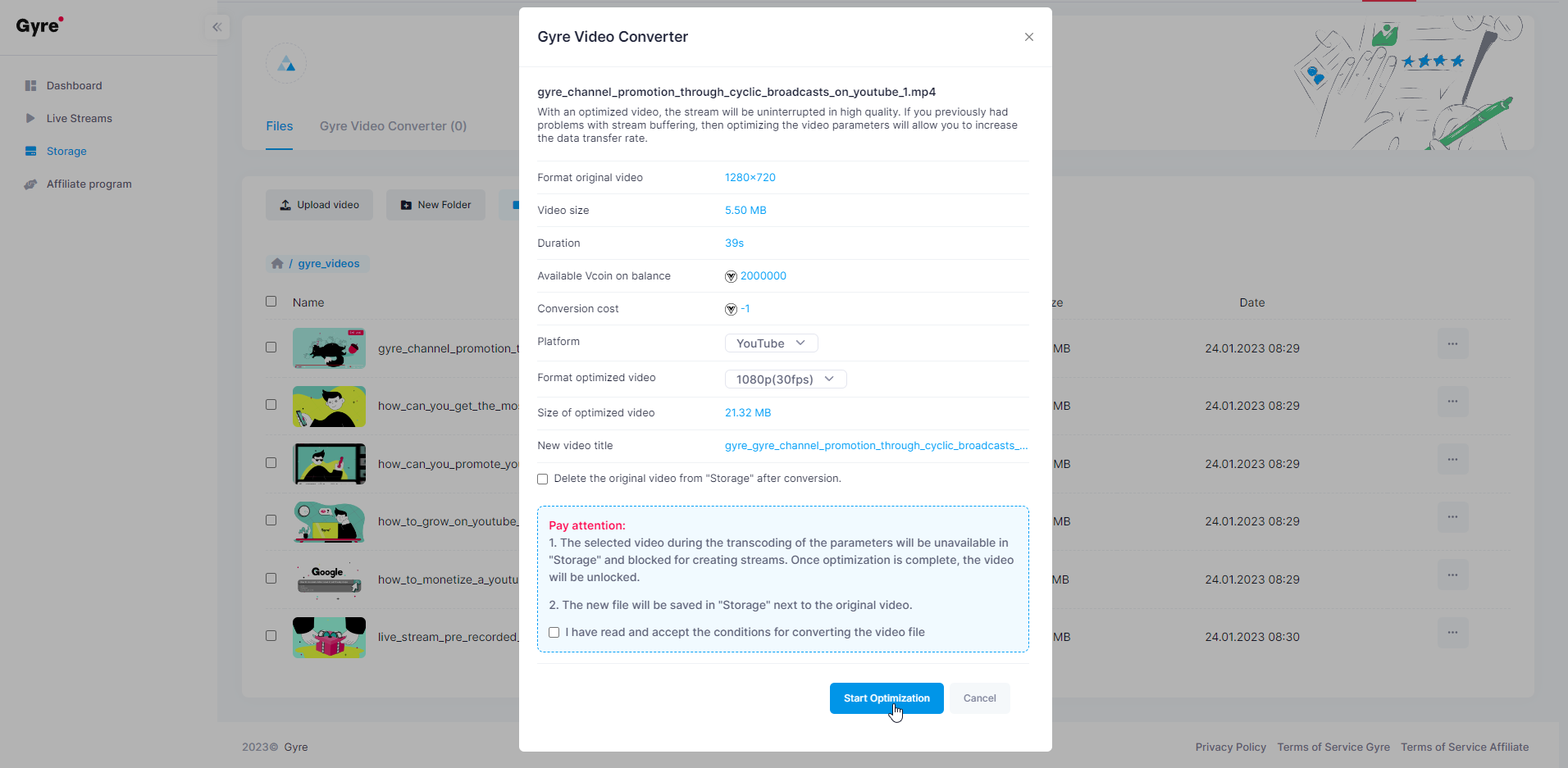 If you agree to the terms for conversion, press the blue "start optimization" button below.
Please note that while the parameters are being transcoded, the selected video will be unavailable in "Storage" and locked for creating broadcasts. Once optimization is complete, the video will be unlocked.
We also want to mention the duration of the process.
The optimization of the video file itself happens pretty quickly. On average, it takes 12-15 minutes to convert a one-hour video. We set aside a separate server to save user "Storage" space for converter files. Therefore, depending on the workload, there may be a queue to transcode video file parameters. The queue forms automatically, depending on how many video files are loaded to the converter from all Gyre tool users. Therefore, please consider that the conversion process may take additional time. More about this process can be found in the FAQ section on the converter's status.
The conversion process in the personal account uses the internal currency — Vcoin. By default, the user will be charged a certain amount of Vсoin based on their Gyre subscription.
Vcoin is the internal currency for the Gyre Video Converter, which measures the video file time (in seconds) to convert.
What are Vcoins, and how are they earned?
1 Vcoin = 60 seconds per video hour.
If you want to optimize a 5-minute video, you will spend 5 Vcoins.
Please note that any video conversion of up to 60 seconds still costs 1 Vcoin.
So if the video is 61 seconds long, you will spend 2 Vcoins on its conversion, etc.
The Gyre Video Converter is currently in test mode, so Vcoins are automatically credited depending on the user's selected subscription plan. We are developing a plan for accruing additional Vcoins and their registration.
Currently, the allocation of Vcoins to packages is as follows:
Trial — 60 Vcoins
Start — 120 Vcoins
Start+ — 260 Vcoins
Pro+ — 500 Vcoins
For users with subscriptions for 3, 6, and 12 months, other Vcoin accrual factors are applied.
| | | | | |
| --- | --- | --- | --- | --- |
| | 1 Month | 3 Months | 6 Months | 12 Months |
| Start | 120 | 432 | 1800 | 2880 |
| Start+ | 260 | 936 | 2340 | 6240 |
| Pro+ | 500 | 1800 | 4500 | 12000 |
While the converter is in test mode, we have doubled the amount of Vсoin for each subscription package so you can test it on your channel.
We will continue to develop our Gyre tool. Plans include the development of a calendar for delayed streams and other new features.
Please give us your feedback about the converter's performance. You can write about anything - your suggestions, any bugs you encountered, upgrade prospects, or just words of gratitude.
We will read everything!