In this article, we will share a recent story of a Gyre user who included continuous streams in their YouTube channel development strategy. To get consistent activity on the channel and generate views, continue reading.

And as a pleasant bonus, we add a checklist for using Gyre to obtain maximum results.
So, let's not waste time and start with the main thing!
79% of the total channel income came from continuous streams — $30K in 5 months! The author streamed only their existing content.
Of course, we knew that streams would have an explosive effect, but THIS much was a little unexpected even for us.
Let's dive a little into the chronology of events. ↓
The Proper Racer channel first started using Gyre in January 2022. Once the partner saw the results, they immediately connected to another server. If you go to the channel, you'll see 8 streams running simultaneously.
A little theory:
YouTube is interested in keeping the viewer on the platform as long as possible, so it creates various additional features. The platform promotes streams more actively than regular videos.
Audience retention on streams is higher than on regular videos. Thus, you increase the beneficial effect for the channel by creating streams from existing videos.
Let's look at the numbers.
In the period from April 1 to August 31, the author used 210 streams. Yes, 210! To achieve higher metrics with streams, you need consistency.
Take a look at the monthly channel analytics: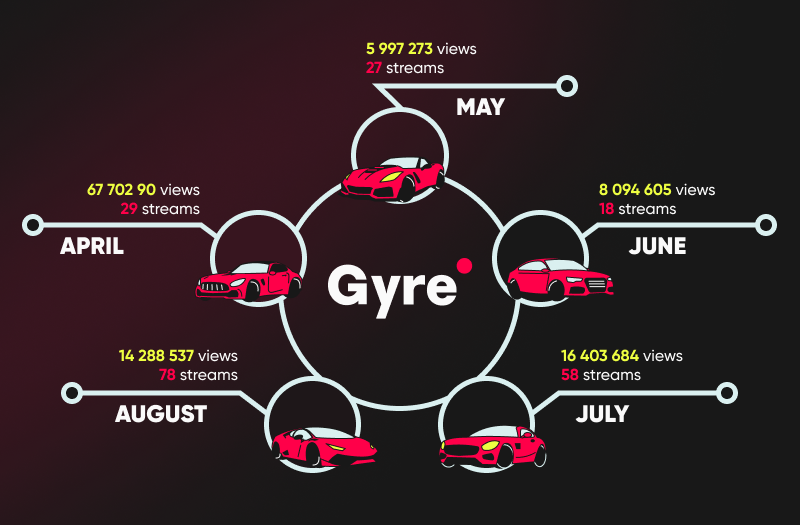 The most profitable months for the channel were July and August. 136 streams were launched during this period, bringing the channel over 30 million views.
That is, only 1 stream brought the channel from $84 to $462 income and from 183K to 449K views per month on average. The monthly Pro+ package with the ability to run 8 simultaneous streams costs $139, and you can pay for it with money earned from just one stream while the others bring you income.
And that's not all!
Just look at these numbers.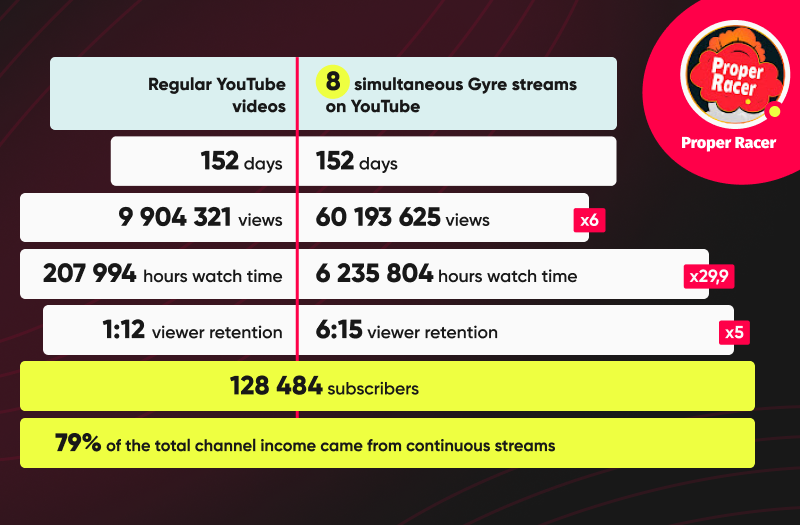 We know, your desire to start streaming is growing stronger by the second but read on to learn how to do it right!
Checklist Gyre
We have systematized all the tips for launching continuous streams and divided the checklist into 3 stages.
The checklist will help you avoid mistakes when creating streams and draw your attention to the necessary points for an effective launch.
Stage 1.
Selecting videos for streaming
Make sure the content in the selected videos is still relevant and useful to your viewers.

Make sure that the total duration of the selected videos is at least an hour.

Cut out fragments of greeting/farewell to the audience from the video (if available).

One stream, one concept. Choose to stream videos from one topic so that the stream is consistent and understandable to the viewer.
Stage 2.
Preparing the channel
Streams attract new viewers who might likely be interested in your content but don't yet know anything about your channel. Simply put, brush up your channel and prepare it for new viewers.
Review the channel description. Add calls to subscribe on the main page.

Add a channel teaser or check an existing one (it's important that it's up to date).

Review thumbnails and titles of existing videos.
After the stream, viewers often go to the main content of the channel. Make sure that new viewers can easily understand the topics of your channel.
If necessary, create playlists on your channel from existing videos.
Stage 3. Creating a stream
Before uploading video files to "Storage," we advise you to optimize the necessary videos. This is a

YouTube requirement

for live streaming data rates and resolutions.
Optimized video files guarantee the continuity and quality of the stream picture. Instructions for transcoding video settings with Adobe Premiere Pro and DaVinci Resolve video editors can be found here.
Write an attractive title and description for your stream.
Choosing the most relevant stream title and description is just as important as choosing a clear and concise title for a regular video. The name of your stream affects how your stream is optimized and discovered by viewers. If you want YouTube's algorithms to recognize your stream and recommend it to the audience for viewing, you should take choosing the name and description of the stream thoughtfully and creatively. We wrote about the importance of the title and thumbnail in our blog.
In your Gyre account, you can create your own playlists of videos to stream. You don't need to compile the entire file from the selected videos.
Moderate comments in the stream chat.

Test different strategies for launching continuous streams.

Run as many streams as you can for different key queries and topics.
In this way, you will be able to cover the various interests of your target audience and provide content for your viewer's specific needs. The simplest metaphor: streams are like a fishing net. The more nets you throw, the more viewers you'll catch.
Start with 2 streams, see the audience feedback and gradually increase the number of streams. Do not be afraid to experiment and implement something new.
Wow, you've read the entire article! You must be really interested in growing your YouTube channel.
Don't postpone the development of your YouTube channel; choose your Gyre subscription right now!